As mobile devices become more integrated into our daily lives, it becomes all the more important to keep them protected. Kaspersky Lab researchers reveal that the number of mobile malware has nearly doubled every year from 66.4 million in 2017, to 116.5 million in 2018. Their 2019 analysis is still ongoing, but considering how last year was dubbed as "the worse year for cybercrime," according to Dark Reading, the situation isn't going to get better anytime soon.
Among the many types of mobile data breaches, one of the most overlooked is SMS messaging. After all, texts are "harmless" as they don't typically store information such as your ATM pin or credit card number—or so you think. Unfortunately, HP warns that criminals can actually access information found in your texts. This usually comes from messages that reveal when your house is empty, or the whereabouts of your own family to use as blackmail. Therefore, you should be taking extra precautions to ensure your private info stays private.
That being said, here are five to use to keep your messages protected.
Best lock app for Android: AppLock
AppLock is one of the most popular tools for safe guarding your apps on the Play Store, with over 100 million downloads. Besides being able to lock your messaging app, you can program AppLock to lock calls, contacts, or even hide selected apps entirely. The best part is that it's free, although you can upgrade to pro if you want to skip the ads.
Best lock app for iPhone: BioProtect
Passwords and patterns can be deciphered, but faces and fingerprints are a lot harder to replicate. This is why BioProtect works so well as an app locker. It allows you to lock your apps, including iMessage, with only face and touch IDs as an option, so you can be sure nobody else can tamper with your phone. Additionally, whenever someone tries to change your phone settings, you can program BioProtect to ask for ID every time too.
Best message hiding app: Vault
If you need more security, then consider apps that hide messages even from its own users. Vault does this with its "private contacts" option, hiding all incoming SMS messages from contacts you list under said category. The message can only be viewed in the Vault app, which can only be opened with a numerical password. This is especially useful for contacts that you constantly have to send sensitive information to, such as your work colleagues and boss.
Best encrypted messaging app: Signal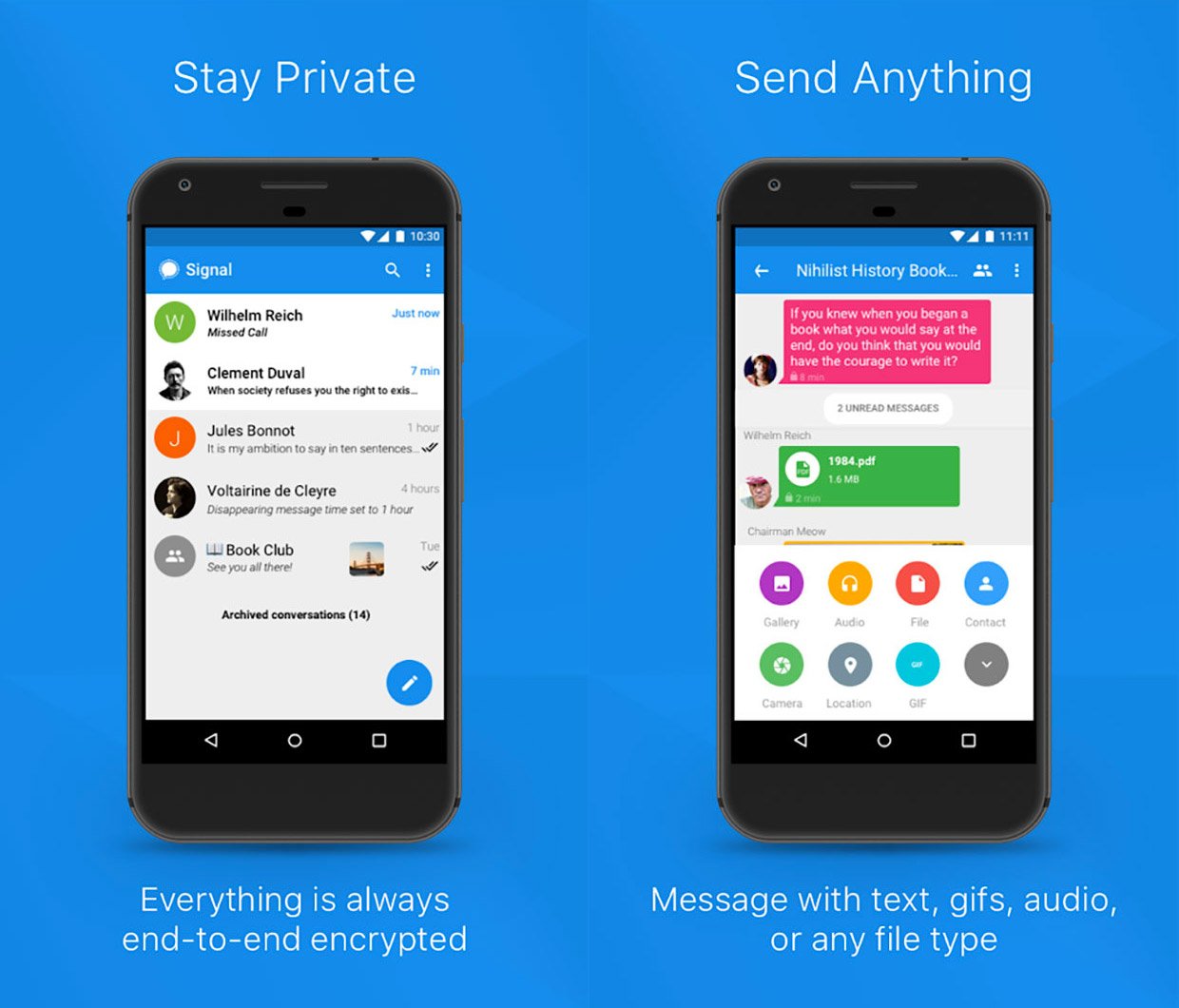 SMS texts can never be truly hidden as they go through a carrier. Luckily, there are apps that are built with end-to-end encryption—which means that no one, not even its developer, can see any of your messages. Among all options, Signal comes highly recommended as the interface is simple and user-friendly. The only downside is that your contact has to have Signal installed too, but mobile analysts from Medium assure that encrypted apps are easily the most secure way to send messages with. So, it's totally worth it.
Best anti-spy app: FreePhoneSpy
Perhaps one of the worst mobile threats right now is spyware. As its name suggests, hackers can use it to spy on mobile activity, which includes whenever you read your messages. FreePhoneSpy can notify you about any unusual activity on your phone, including active spyware, and removes them immediately. The app can even be accessed on a desktop, so you can monitor your phone even when it's not in use.
Between unsuspecting hackers and malicious malware lurking in the digital world, there's no such thing as too much security. After all, messages are a prime source of personal information that could be dangerous in the wrong hands.